Filter by Subcategory
Weekend Programs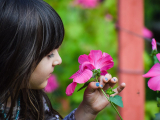 March Flowers for Kids Single Session
with Jessie Paulson

Next available session starts Mar 26, 2023 at 10 am
This class is offered to grades K-3 Sundays from 10a-11:30a.
The month of March we will be using flowers as our inspiration in the studio. We will create work from still life, with collage, pastel, painting and of course lots of imagination.
Our work will range from large and collaborative to tiny and colorful! Join us for one or all of the sessions.
March Flowers
with Jessie Paulson

Next available session starts Mar 26, 2023 at 12 pm
Join us over the month of March to study flowers. Each week our materials will change; some days we will work with small and other days large, some in charcoal and others with paint.
Our focus will be on scale and working from life. We will look at artists throughout history who drew from the same subject matter and will inspire us to create!
Enjoy one or all of the sessions offered!