Filter by Category
Mini MoCA Learning Lab & Art Adventures Tuesdays 2:15p-3:30p
Academy+ Pass

Current session started Dec 25, 2022
What does the Academy+ Pass Offer?
For an annual rate of just $399 per child, the Academy+ Pass offers a range of special benefits and discounts for your child at the Academy at MoCA Westport:
20% discount on ALL children's classes and camps
'Priority Waitlist Upgrade' to be moved to the front of the line on our waiting lists  for classes/ camps that fill up quickly
Access to our summer camp private pre-registration window January-February -before bookings open to the public in March
A complimentary guest voucher to bring a friend or family member who would like to experience a class at the Academy for the first time
*An Academy+ Pass is valid for one year and must be purchased for each individual child. Please allow 1-2 business days to receive email confirmation of your child's enrollment. This email will also include your child's personal Academy+ Pass ID -for use during registration to receive 20% off classes and camps. 
**To access special benefits and discounts, our new Academy+ Pass must be purchased prior to registration**
*Sharing of coupon codes and ID's is strictly prohibited, violates terms of service, and may result in cancellation of registrations made without refund. Academy+ Pass is non-refundable and non-transferable.Discounts from Family Memberships may not be combined with discounts from Academy+ Pass.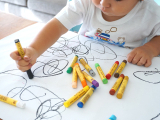 Mini MoCA Learning Lab & Art Adventures Tuesday 6 Classes
with Susan Donato

Current session started Feb 28, 2023 at 2:15 pm

, runs for 6 weeks
Academy+ Pass Kid's Pricing: $276
Mini MoCA Learning Lab & Art Adventures Tuesdays 2:15p - 3:30p 6 Class Sessions
Jan. 3rd - Feb. 7th 
Feb. 28th - April 4th
Blending emerging literacy and math skills with artistic adventures - children in grades Nursery to Pre-K enjoy an hour at MoCA Westport with our certified instructors engaged in creative pursuits with an emphasis on emerging literacy and art enrichment. This is a drop off class so students must be fully potty trained.