Filter by Category
March Flowers Kids Class Sundays 10a-11:30a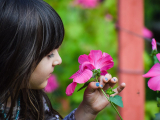 March Flowers for Kids Single Session
with Jessie Paulson

Next available session starts Mar 26, 2023 at 10 am
This class is offered to grades K-3 Sundays from 10a-11:30a.
The month of March we will be using flowers as our inspiration in the studio. We will create work from still life, with collage, pastel, painting and of course lots of imagination.
Our work will range from large and collaborative to tiny and colorful! Join us for one or all of the sessions.