Filter by Subcategory
After School Classes for Kids
Mini MoCA Learning Lab & Art Adventures Tuesday 6 Class Pack
with Susan Donato

Current session started Jan 3, 2023 at 2:15 pm

, runs for 6 weeks
1 additional session on Feb 28, 2023
Academy+ Pass Kid's Pricing: $276
Mini MoCA Learning Lab & Art Adventures Tuesdays 2:15p - 3:30p 6 Class Sessions
Jan. 3rd - Feb. 7th 
Feb. 28th - April 4th
Blending emerging literacy and math skills with artistic adventures - children in grades Nursery to Pre-K enjoy an hour at MoCA Westport with our certified instructors engaged in creative pursuits with an emphasis on emerging literacy and art enrichment. This is a drop off class so students must be fully potty trained.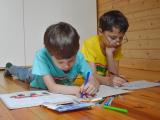 STEAM for Kids
with Amy Chaple

Current session started Jan 4, 2023 at 4 pm

, runs for 6 weeks
1 additional session on Mar 1, 2023
Academy+ Pass Kid's Pricing: $332
This 6 part series of classes are offered to elementary school students on Wednesday afternoons from 4p-5:30p. 
STEAM education develops children's critical thinking skills. STEAM stands for –– Science, Technology, Engineering, Arts and Mathematics. STEAM projects for kids at the Academy at MoCA Westport, incorporate an interdisciplinary approach instead of standing alone. This interdisciplinary approach is more reflective of how disciplines interact in real life.